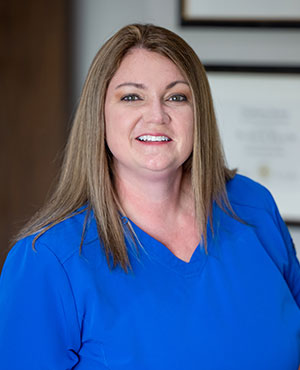 Rachel Ray
Dental Hygienist
I have worked with Dr. Perry since 1997 and love being part of such a great team. I love being part of our patients' lives. It's a great feeling to build relationships with people while helping them improve their dental and overall health. Our patients deserve the best care, and that's what Dr. Perry and our team provide. We're professional, experienced, and always focused on patient comfort. I work with patients: cleaning their teeth, providing periodontal therapy, and taking impressions and radiographs. A lot of my time is spent teaching people how to take control of their dental health. We review good home dental hygiene, nutrition, and how to develop healthy habits. In addition to oral hygiene care, I provide chairside assistance. I also order supplies, sterilize tools and equipment, and handle lab work.
My time away from work usually involves being with family and friends. I also love gardening, nature walks, and bicycling.
---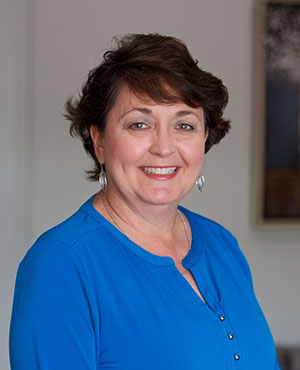 Belinda Dean
Office Coordinator
I have been part of Dr. Perry's team since 1999 and have really enjoyed watching the practice grow and evolve. Our patients are wonderful people, and I look forward to each person's visits. Since we see them a couple of times a year, it's fun to keep up with their families and events. It's incredible to see people smile as they arrive for an appointment: They look forward to coming to see Dr. Perry and our team and we look forward to seeing them! I work at the front desk: greeting patients and scheduling visits. I also oversee treatment planning, insurance claims, and financial reporting. In addition, I handle accounts receivable and payable, collections, and monthly banking. I'm here to answer questions and make sure patients are pleased with the service we provide.
My husband David and I have been married since 1988. Our oldest son, Wesley, attends Kalidescope Program. Our younger son, Hunter, works for United Johnson Brothers of Alabama. I enjoy walking, bowling, and the beach. I'm an active member of the Coastal Alabama Down Syndrome Society. It's a nonprofit organization that supports individuals with Down Syndrome and their families.
---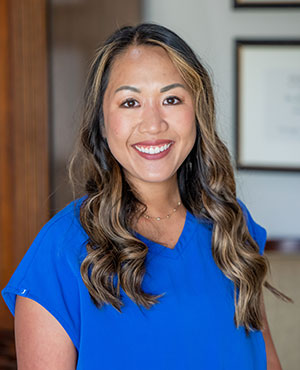 Carol Ammons
Dental Hygienist
I love being a part of our amazing team at Spring Hill Comprehensive Dentistry and couldn't be happier working with Dr. Perry, having joined the team in 2017. I enjoy attending the best continuing education classes and keeping up to date with the newest techniques and technology. Dr. Perry gives us the opportunity to attend the best courses all across the nation to further our skills and knowledge base. I've been in dentistry since 2007 and enjoy everything about it from building relationships with patients to caring for their overall dental health. I take pride in providing quality dental care and making sure our patients are extremely comfortable. At work, I spend my days providing preventive cleanings and periodontal therapy, which includes periodontal evaluations and extra/intraoral examination along with thoroughly examining for any necessary treatments needed. I also evaluate malocclusion and airway access. I take diagnostic radiographs, intraoral photos, and impressions. I also administer Zoom in-office whitening treatments. Patient education is my main focus - educating patients on the benefits of oral health and how to achieve it. You also may find me wherever I'm needed, whether it's assisting chairside or answering the phone and scheduling appointments.
My husband Cody and I are high school sweethearts; we have been married since 2007. We have one daughter, Camellia Claire. On my time off, I will likely be spending time with my husband, daughter, family, and friends. I enjoy serving the community and my church as much as possible. I also love traveling as much as possible, eating everything, and trying new things
---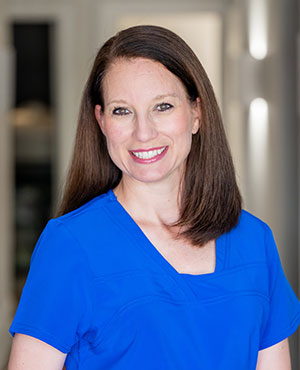 Angela Reddick
Dental Hygienist
I have worked in dentistry since 1999, providing hygiene care and cleanings, assisting the doctor, and doing any necessary lab work. I started with Dr. Perry in 2022 and am super excited to be a part of this team. I believe the most important part of my job is patient education - giving patients information and knowledge to better their oral health and overall well-being for a healthy life and smile. I enjoy assisting Dr. Perry, transforming each person's smile and improving their life. At the office, my roles include periodontal therapy, preventive dental prophylaxis, patient edication, teeth bleaching, and taking diagnostic radiographs. I also assist Dr. Perry on many of his cases and manage laboratory procedures that are necessary for the success of those cases.
On my off time, I enjoy family time and providing for them. We have land and kids and plenty to do. When not at home you can find me in the mountains on a trail or laying on the beach. My favorite thing to do is going to concerts of all kinds!